As is my usual habit with everything in life where I research like crazy, I've been digging into the pasts of the latest batch of nationally-known Democrats. The most interesting one I've found by far
is
Pete Buttigieg, who is as close to a "twin study" as you'll find to
me
-- to the point where the similarities are kind of creepy:
Born in the midwest, three months and two days apart (he's the younger).


Both started reading at a very young age.


Super serious, shy, intense children; gained reputations as the smartest in their respective elementary schools. We even look sort of similar as kids, see below comparison photos. He's a little older than me there, but it's the closest age match I could find.


Both got picked on a lot by the other kids. Often friends with the teachers moreso than classmates.


Only children. Technically I got a brother when I was eleven, but any birth order expert will tell you that psychologically, that kind of age gap is the same as being an only child, with such relationships taking on instead an "uncle and nephew" familial role.


Went to essentially all-white, upper-middle class private elementary schools. My case was Catholic all the way through; his was Montessori, then Catholic.


Excelled at piano at a very young age-- albeit he kept with it, whereas my teacher moved out of state, and I never signed up for lessons again.


Favorite show was "Star Trek: The Next Generation". Played football and soccer religiously with friends.


"Valedictorians" in 8th grade; my school didn't have that title technically, but I was top of my class by a wide margin. I also was granted a significant four-year scholarship to high school in recognition of my achievements.


Presidents of student councils.


Gave speeches as 8th graders to room full of adults; acted and spoke like 30-somethings at that age.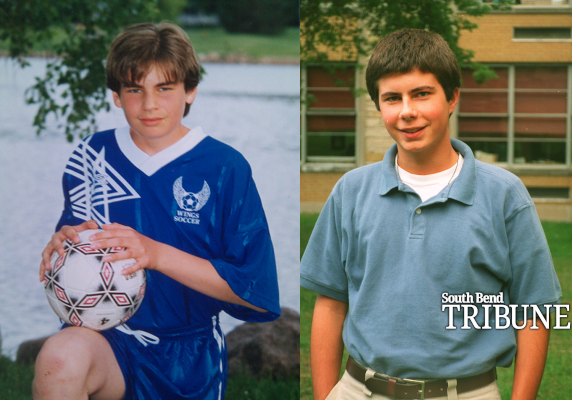 But then starting around ninth grade, we split in diametrically opposite directions: he became a
huge
"Kool-Aid" drinker-- an advocate for authoritarianism-- and continued his academic achievement. As an adult, he's a text-book "social justice warrior" Democrat-- a grown-up "goodie two-shoes".
Whereas and in total contrast, I became highly
anti-authoritarian
in high school, and wound up in the bottom quarter "burnout" segment of my high school class-- choosing to devote my intellectual pursuits to things other than school, which I found to be a pointless and tiresome nuisance. As an adult, I'm a Rothbardian-styled anarcho-capitalist-- a grown up contrarian thinker.
Here are just a few things which were different for us, and which could account for the divergence:
From the article: "Buttigieg was the only child of college professors growing up in a bubble of academia in the Rust Belt." By contrast, I grew up in a Conservative, Free Market-oriented household, in a blue collar neighborhood.


Regarding his father: "...garnering attention for his scholarship in critical theory and civil society..." You just can't make this stuff up: his dad was quite literally an American contemporary "Herbert Marcuse". Could getting "Frankfurt School" values in your ear all your childhood influence your sexual orientation later on? Perhaps.


When teachers or parents would compliment me, they'd say "some day Mike, you'll make a great businessman." As an adult, I've had a long and successful career in a Fortune 500 company. When teachers or parents would compliment Peter, they'd say "some day Peter, you'll make a great politician." The specifics of reinforcements like this materially matter to children like him or me.


There could be a genetic component in play as well; both my mother and father's families have strong anti-authoritarian streaks-- for instance, my maternal great grandparents were "moonshiners" during Prohibition.


Another key difference is that my family started going through really bad times around when I was starting the tenth grade, causing serious disruptions to the stability of my home life. It's possible that those experiences were what tripped the anti-authoritarian tendencies in my DNA, and also caused my grades to suffer.


You can split intellectuals into two types: those concerned primary with the outside world, where their inner world fulfillment is secondary-- and those who are the opposite. He is clearly the "outer world" kind, so the praise of good grades and the acquisition of power is satisfying-- and I am strongly the "inner world" type, hence why a "dark closet programmer, just leave me alone" career and society is appealing.
As a partial aside, Bernie Sanders of all people proved a huge inspiration for Peter's having entered the political arena; in fact, Peter wrote a high school essay describing Bernie as "principled."
Communism is on the extreme end of "the ends justify the means" spectrum; if we have to crack a few eggs to make the utopian omelet, then I guess that's that! Whereas a
principled
attitude would be, "no! those eggs are people! and killing people or stealing from them is wrong, no matter what the end goal." That's why Marxist-styled Leftists are always morally relativistic post-modernists, and Libertarians are always moral absolutist "natural law" types.
Thus, describing Bernie as "principled" seems
completely
wrong to me; he's a relativist, as did Peter become unfortunately. And that's the biggest divergence of all between us.