As an overdue follow-up to
this
post, I did indeed go on to buy an Xbox One disc version of "eFootball Pro Evo 2021 Season Update", or whatever in blazes it's called, for ten bucks on eBay. I even
reviewed
it.
As someone who has been playing the series since 2004, I can attest that although it hasn't changed much over the past several years, this current rendition's gameplay is probably the best sports engine ever created. It doesn't hurt that the graphics, outdated as they may be from a tech standpoint, look marvelous at a native 4K, with HDR, running on the Series X, at sixty frames per second.
As is my usual pattern, I picked a terrible, low-budget Serie B team--
Virtus Entella
, in this case-- then painstakingly rebuilt them in Master League over multiple "mercatos" so that they not only have gone from players in the low sixties to the mid-upper seventies, and not only gone from an aging declining squad to an average age of twenty one years old, but to the point where they have thirty million Euro in the transfer coffers, and six million to spare in the wage budget.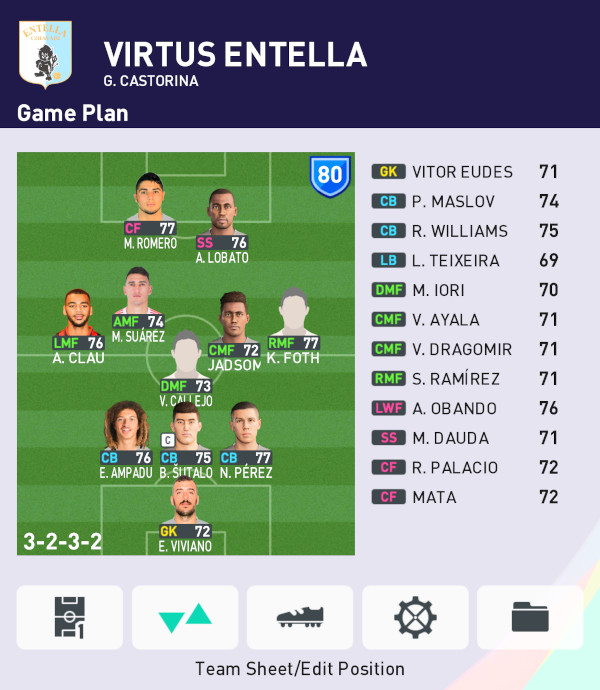 Currently, I'm leading Serie A having won promotion, and am also in the knock-out stages of the Europa League, having won the Coppa Italia. I'm playing on "Regular" difficulty, as I always do. I have
several
players with a market value of over twenty million Euro at this point.
Maximiliano Romero
is my star player; I'm tied for the league lead in scoring with him, and he also has ten assists. Alexis Claude-Maurice, Mohammed Dauda, Rhys Williams, Kai Fotheringham, Bosko Sutalo, Ethan Ampadu, and Nehuén Pérez are all real-world players various people might recognize. I'm not sure who "Lobato" is, but he is my second most spectacular attacking player. "Suarez" is also great, also not sure who he is in real life.
Additionally, I have re-incarnated versions of Viviano in goal, and Rodrigo Palacio-- a player I've been watching in real life since he was in his
early twenties
, playing in Argentina-- whom I employ as an attacking midfielder. Here is the entire squad list: