Web sites really need to come up with some way to stop "scalpers" and bots, because this reminded me the day I eventually landed a PlayStation 5: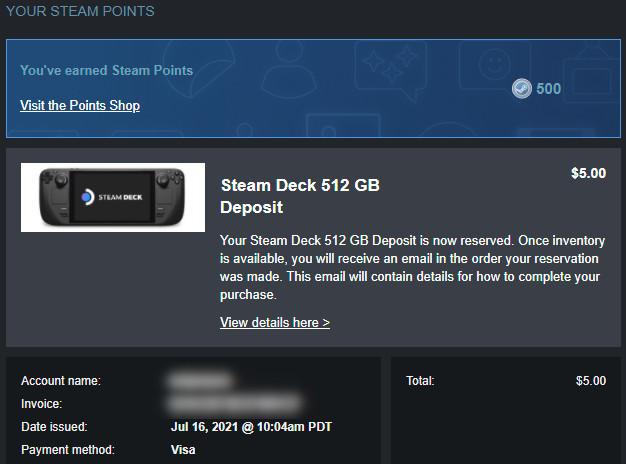 But in the end, victory! The more I thought about this thing from early this morning to the moment I could place the pre-order, the more sense it made for the way I play games.
The Switch whetted my appetite for and got me addicted to the "play on TV or in handheld" formula, but I've been
desperate
for a blend of that equation which wasn't rooted in 2005 Xbox 360-caliber graphics, in the year 2021: it's totally absurd. Then came the "Switch OLED" announcement, and...
But completely out of the blue, here comes good old Gabe to do what Nintendon't! There are several ways in which I plan to use this thing-- you'll quickly see why it's a good option for me:
PC Mode: Now that my actual PC is one hundred percent Windows, this will be my dedicated GNU/Linux, Arch ("SteamOS") box for non-gaming usage.


Super-Charged Wii U Mode: For games which need more grunt, I can stream my Windows PC straight to the unit via Steam "Remote Play".


Nintendo Switch Mode: Play games in handheld mode, or set it in the dock which will be plugged into my TV.


Open Source Handheld Mode: I've dabbled in those neat little Open Source handhelds, but this new baby will run RetroArch and every platform under the sun, with shaders and everything else.


Game Pass Mode?: I wouldn't be surprised if Microsoft made a SteamOS "Game Pass" application, then licensed and linked in Valve's DirectX-to-Vulkan "Proton" translation library to make it tick.
People are skeptical of this because of Valve's failures with the Steam boxes and controller-- but unlike back then, every single gaming outlet seems to be really excited this time around, as the value equation is truly there.