The video card came in, and my son and I spent last night running 3DMark's various benchmarks! Here are the PC's final specs:
CPU: AMD Ryzen 7700X
Motherboard: Gigabyte B650 Aorus Elite AX AM5
Memory: 2x 16 gig. G.SKILL Trident DDR5 6000 (F5-6000J3636F16GX2-TZ5RK)
Video Card: Gigabyte GeForce RTX 4070 Ti Eagle OC 12 gig.
Storage: Samsung 980 Pro 1 TB
Power Supply: Corsair RM850x
Cooler: DeepCool AK620
Case: Corsair 4000D Airflow White
Before I get to test results, I want to demonstrate how we're living in clown world-- we're so far past the levels of diminishing returns that it takes a video card the size of Montana to push the envelope. Here is the new card next to my card from 1998, which was a RIVA TNT-based Diamond Viper V550, and which I've preserved in a box all of this time. Cutting-edge 1998 versus cutting-edge 2023. Whoever said computers always got smaller?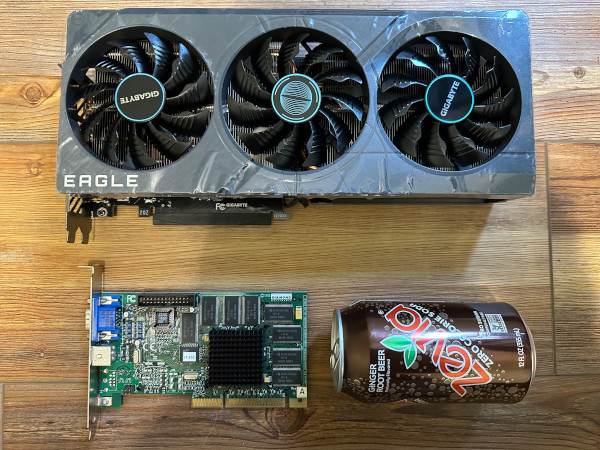 Here is everything jammed into the case. The video card is so big that it comes with an "anti-sag bar"! I couldn't use it in any event due to the design of my case, which has an upward-sloped portion via which one runs cables to the motherboard. You can barely even see the motherboard beneath all of the junk sitting on top of it!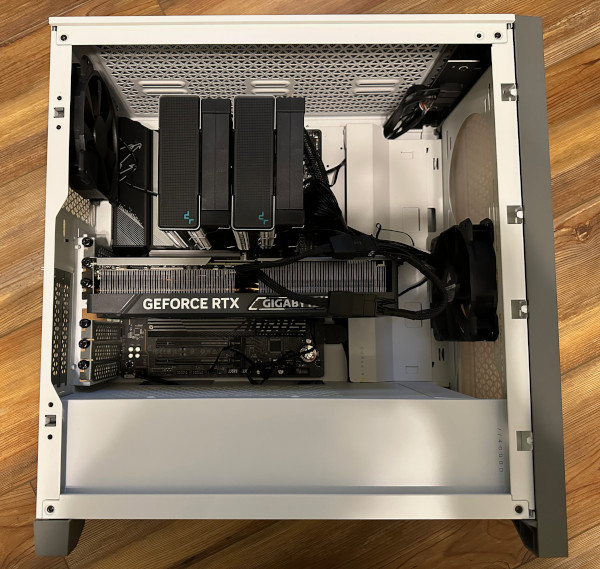 At least the thing is fiendishly fast, albeit it sucks the power of a small city doing it, and generates enough heat to make comfortable the entire Northern half of the continental United States:
Sandra CPU Overall: 16.93 kPT
Sandra Storage: 6753 MB/s, 8.92 kPT
Sandra Memory: 61.431 GB/s, 53.9 ns
3DMark Port Royal: 14263
3DMark Time Spy Extreme Overall: 10090
3DMark Time Spy Extreme GPU: 11041
3DMark Time Spy Extreme CPU: 6781
3DMark DLSS Test, DLSS Disabled: 29.96 fps
3DMark DLSS Test, DLSS 2: 81.39 fps
3DMark DLSS Test, DLSS 3 with Frame Generation: 105.99 fps
If I have time tonight I will fire up Cyberpunk 2077 and crank up all of the ray tracing to max, to see how the game looks.