I just wrapped up my first regular season with Jaguars in franchise mode!
Here
is a video montage I made with sample gameplay from a handful of matches. I also grabbed some of the statistics, for posterity's sake.

Here were my final stats with Trevor Lawrence. Admittedly, without my custom sliders I probably would have thrown fifteen interceptions instead of two. Still, my 61 touchdowns were pretty legit-- I got good at reading coverages, and audibled on almost every play it seemed.
I was just shy of leading the NFL in rushing with James Robinson. I don't like his lack of breakaway acceleration. I might trade him for a first-round pick or something if I can either get a faster back, or think I can rely on Etienne full-time (with whom I did break a 71 yard TD run in the last game of the season).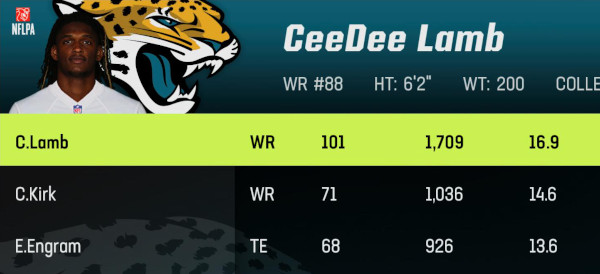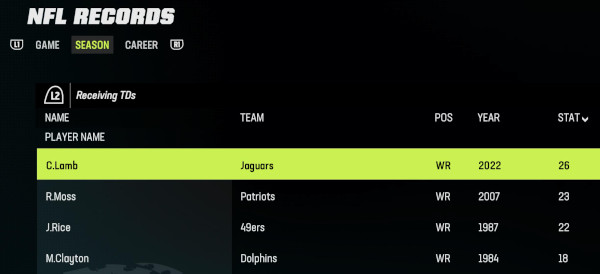 I did so well with CeeDee Lamb that I nearly led the league in receiving, with Lamb
having missed two games
due to injury! In fact, I set the all-time single season touchdown receiving record.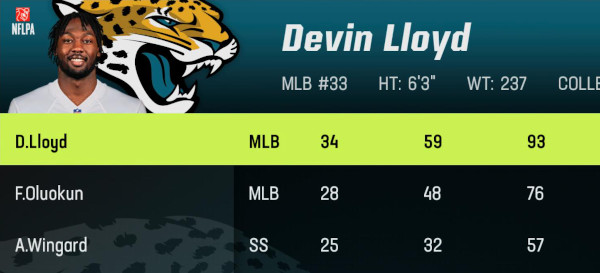 Devin Lloyd led my team in tackles with 93-- he was a machine! Obviously he was way off the NFL totals, given I was playing with six minute quarters.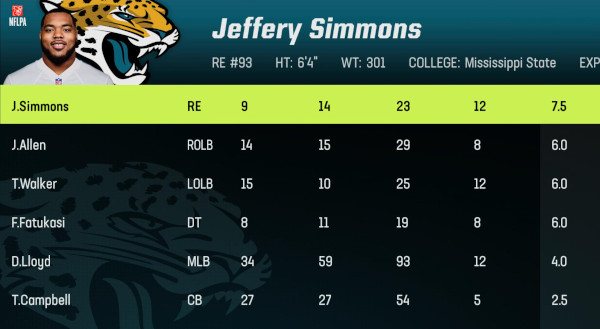 Along with CeeDee Lamb, Jeffery Simmons was another major player I ripped off of the CPU via trades. He led my team with 7.5 sacks. It's tough to get sacks manually in this year's Madden, with the changes to bull rushing.

Jaylon Johnson is another player I ripped off of the AI. Over the course of the season he's developed the "Superstar" development level. But it was actually Shaquill Griffin who led not just my team but the NFL in interceptions, with 11.

I didn't kick many field goals, but I did (barely) nail a 61-yarder with Austin Seibert at one point.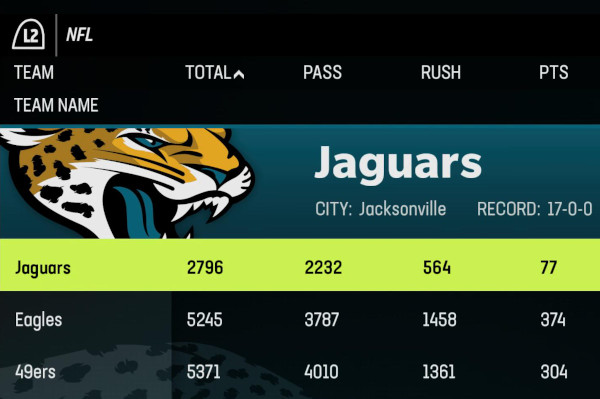 My team was top-ten on offense, and numero uno on defense. Again, the numbers are skewed by the six minute quarters.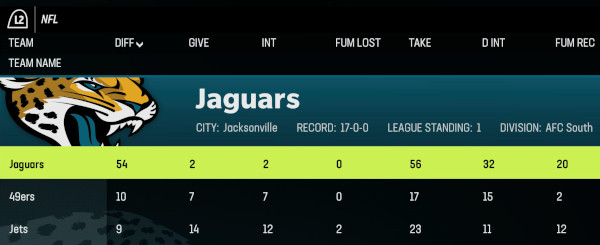 I was able to force an unrealistic number of turnovers. I had a +54 ratio on the season. A couple of the crappier quarterbacks, like that Davis Mills guy with the Texans, threw five interceptions against me!
Now that the regular season is done, it's on to the playoffs!